The MIT Media Lab released something called Personas Friday. I saw this on TechCrunch, and immediately thought of Wordle, except this takes you as a source of the words.
Enter your name, and Personas scours the web for information and attempts to characterize the person – to fit them to a predetermined set of categories that an algorithmic process created from a massive corpus of data. The computational process is visualized with each stage of the analysis, finally resulting in the presentation of a seemingly authoritative personal profile.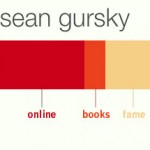 I was curious how Personas saw my identity. Since I have a "Sean Gerski" doppelganger and have recently been wondering about my online identify I thought this was a good test. Obviously "online" was the front runner, I am surprised that "Illegal" was as large as it was, however I have no idea what that is referring.
I see that "Politics" and "Religion" are the same size too; you can draw whatever social commentary between that you would like. I took the words from Personas and turned it into a Wordle here.