For better or worse the 2011 NHL Playoffs have come to a close. I was able to watch the Vancouver Canucks play until the middle of June, and with a game almost every other night I had it all. My alcohol consumption increased, I grew a few more gray hairs during the stressful first round against Chicago and suffered the devastation of a second Stanley Cup Final Game 7 loss.
Over the last few years I had some heavy superstitions and there were periods I thought that simply by watching the game would affect the outcome. For a stretch Vancouver won more games when I didn't watch than when I did. In 2009 and 2010 I grew a playoff beard and on May 11 in both years I shaved them off after Vancouver lost to Chicago after six games.

I felt that 2011 would hold playoff success so I opted to not grow a beard. If I looked like a sleazy pirate after a month the results of going unshaven for two months would be a thing of bewilderment and ridicule.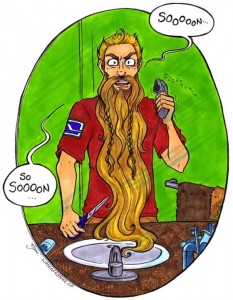 I kept a routine but it wasn't as visible, and it didn't affect my hygiene. Instead of growing a beard I allowed myself to shave except on game days. I would rotate through my Canucks jerseys as I watched the game at home. I didn't have a set order I went through the decades of jerseys, but each one has been worn several times since April.

During Game 7 of the first round I decided to have a shot of alcohol every time someone scored. It was a low scoring affair with only one goal for Vancouver in regulation, but when Burrows capitalized on a Campoli turn over I didn't hold back and had a few shots of Alize. That developed the routine of taking a shot of Alize on each Vancouver goal in any elimination game, in addition to having a few at the end of a series. This was all on top of the beer or rum and coke mix I had.
In the rounds against Nashville and San Jose my traditions stayed in check. Because of schedules I wasn't able to see all of the San Jose games live, but the curse had been broken and the Canucks did fine without me watching. This bit of knowledge was useful when the Finals came and I had to miss a few games due to a U2 concert and Ice Dragons hockey games.

At the end of the Stanley Cup Final this culminated in an all our drink fest. A scoreless hockey game, a difficult first period goal and the weight of a good season hanging in the balance meant that last night got sloppy, something that would have happened if the score was in Vancouver's favor and they had won.
It's going to be a long off season, and an even longer time until April when playoffs start back up and I decide how superstitious I am going to be.