We enjoyed our trip to Marseille last year, but wondered if the negative points (smell, Gypsys and filth) would appear in Paris and affect our experience. In a word: No. Paris was amazing and we would gladly return.
We knew of the stereotypes of Parisians but we found people in Paris to be friendlier than in London. There was ample garbage cans and the city was incredibly clean, even in high traffic areas. Any evidence of the retirement age riots from a few days before weren't visible and had nothing but good things to say about the store owners and people on the street. We encountered one typical French waiter, but we went out of our way to find a fancy French restaurant so the language barrier we had would definitely lead to some frustrations.
Leading up to our trip we did a lot of research on the various districts and the problems tourists had with them. We picked a hotel close to Gare du Nord but not too close that it was unsafe. We selected a hotel in the ninth district (Opera) called Hotel Mogador and were pleasantly surprised by it. By European hotel standards it was roomy, you could walk around both beds and the bathroom was spacious and functional.
The hotel was surrounded by weekday businesses so there wasn't much night time activity by our room and this suited us fine. We were a 25 minute walk from the train station, multiple Metro stations were within minutes and we could walk to the Louvre. The staff was friendly at the hotel and had no complaints about the Hotel Mogador.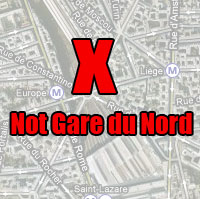 I used Google Maps to find the route from Gare du Nord to our hotel, but instead of creating a route and printing that out, I looked on the map for the nearest train station and used that. Unfortunately the train station I used as a reference wasn't Gare du Nord so when we arrived in Paris all of my directions were backwards.
We had a few false starts trying to find the proper road, and after returning to the train station we found an actua map and headed off in the right direction. We found the hotel before dark, unpacked our bags and set out in search of food. We took baby steps to get comfortable with the area, never wandering too far off a main road.
Our first meal was at a restaurant chain called Bistro Romain. Thankfully the restaurant was pretty lenient towards English speakers so I was able to order and make it through the meal without issue. For dessert I had crème brulée, a trend I could continue for the next two nights.
Monday was going to be a big day, starting with the three hour tour from Photo Tours in Paris. Jenna found this activity on TripAdvisor and was immediately interested, but it took me a bit of time to come around to the notion of it. I spoke with someone who had recently taken the Photo Tour and their positive experience convinced me to go and I was glad I did. I know how the camera works and basic composition but I was concerned about what I would learn from the walk and in the end it was definitely beneficial and very enjoyable.
I learned how to take the skills I have and do things differently, to change the photo by making subtle adjustments. I was made more conscience of depth of field to construct a photo and was given advice on how I could apply different techniques in day to day photography.
Our tour guide was incredibly knowledgeable and provided a good mix of Paris history and fun on the tour. We went to areas of Paris we would have missed otherwise, specifically the lock bridge on Pont des Arts. I took more photos on this three hour walk than I did on the first week of our trip. I fell in love with Paris because everywhere you looked there was something amazing. Perhaps I am romanticizing our experience but the photo walk opened my eyes to the beauty Paris has and I kept seeing it for the remainder of our trip.
When our walk came to an end we had an overpriced lunch at La Coupe D'or and headed to Palais Garnier. We begrundingly paid the increased admittance fee, but once we entered the main area we regretted nothing. Palais Garnier was one of my highlights on the trip, and being in the place that inspired Phantom of the Opera was quite the experience. Everything about Palais Garnier was beautiful, but the Great Hall is worth special mention. The chandeliers, tall windows and gold made this a wonderful sight to see.
From here we took the Metro to the Eiffel Tower. In the scheme of things the Tower stands out. It's big and metallic and doesn't fit with the vision I have of Paris, but it was certainly impressive to be at the base of this huge building and looking up. The crowds were overwhelming and the lines to get to the stairs or onto an elevator were enough motivation to stay on the ground, we were glad we saw it and don't regret not paying to climb any higher.
We still had a tonne of energy and wanted to find Les Invalides. We followed street signs and eventually walked up to the Gold Dome. Ticket sales were closed so we walked around the open air exhibits and then out towards Pont Alexandre III, the second highlight of our trip. This bridge is Paris beauty. The sculptures, decorations and lamp posts were beautiful. When the sun started to set behind the Eiffel Tower it felt like this bridge was made for this view.
We watched the Eiffel Tower get lit up and then headed back to the hotel in search of food. We were craving pizza and had some at a little place called Tivoli Pizza not far from our hotel. We also purchased a bottle of wine from a convenience store and had that to close out our first full night in Paris.
We awoke Tuesday morning sore and tired. We overdid it on Monday and were paying the price today. We wanted to spend the morning at the Louvre but were disappointed to find it was closed on Tuesday's. We walked around the Jardin des Tuileries and then set our sites on the Arc de Triomphe. This meant walking along the long Avenue des Champs-Élysées. Landmarks in Paris are so big that as soon as you can see them you think you can walk to them, but you don't realize that you will spend 45 minutes walking and your destination is still a small dot in the distance.
Eventually we arrived at the Arc and were amazed at its size. I was curious about the traffic circle and couldn't figure it out. As soon as I thought I understood the pattern a small motorcycle would cut through traffic, causing traffic to stop on either side, and then I would be back to square one. Thankfully there is an underground walkway to the Arc as I couldn't imagine how dangerous it would be to cross eight unmarked lanes of traffic.
Sadly access to the top of the Arc was closed that day as well so we looked around the Arc some more and then headed to La Sainte-Chapelle and Notre Dame.
Sainte-Chapelle is known for beautiful stained glass windows but we found it a little disappointing. There was an 8€ admission charge and we spent more time waiting in line than we did inside the building. The stained glass was undergoing restoration, and perhaps when it was completed it would look good; but it was a simple building and with only the basement and main room to see we felt that the admission did not justify the beauty.
We walked over to Notre Dame and felt better about our detour to Ile de la Cite. Notre Dame was free, and a little more crowded, but I enjoyed the look of it more than Sainte-Chapelle and was pleased to have seen such an iconic church.
After this we went to the Les Invalides to do it properly. Sadly, our exhaustion levels were pretty high and with most of the items were without an English translation I felt that I was dragging my feet looking at one French thing and another French thing.
We skipped over a good portion of the museum and jumped to the Golden Dome. The ticket cost for Les Invalides was expensive but at least we saw the decadent and grand tomb of Napoleon. We felt that we covered a lot of what we wanted to see so we headed back to the hotel to get ready for the night.
Our last night in Paris was devoted to a fancy meal at a restaurant called Le Vaudeville. It was total French submersion and I didn't understand what I was ordering. When the waiter asked me "medium?" did I only realize I was ordering meat and hoped for the best. It was a unique experience and were both pleased with what we ordered, especially the crème brulée, which was the best of the three I had.
Jenna had a starter of caviar, confused the waiter and we had a bottle of wine to ourselves. How's that for diving into the French experience? We headed home and finished the wine from the night before and let exhaustion take us in.
Near our hotel was a convenience store called Chez Jean. They had a small breakfast meal that worked well enough, but after two days of breakfast there we found their coffee to be forgettable and the consistency of what was available varied depending on how early it was. On the third morning we went elsewhere and literally right across the road was a small bakery that had delicious pastries that were cheaper and more delicious than anything we had a Chez Jean.
It felt that after a few days in Paris we got the hang of food and were getting better meals for cheaper, but we had to experience the tourist price gauging before we were motivated to look at alternatives. Some of the best food we had was from little bakeries we found while exploring the city.
Wednesday had a great breakfast but it was after a slow start to the morning. We packed our bags and waited in lines at the Louvre. Seeing a free bag check area made our day that much better as we weren't burdened with our heavy and awkward packs. Surprisingly I was pretty interested at the Louvre. We got the Mona Lisa out of the way first and like everyones reaction: it was crowded and small. It was surreal to be in the presence of such an iconic piece of work that I felt like I didn't truly appreciate it.
We wandered the Louvre for three hours and I had a good time. Some areas were more interesting than others, I was really moved by the Venus de Milo and it stood out as a Louvre highlight for me. The Sphinx and Moai (Easter Island Head) were other favorites. Near the end of our walk we ended up in a sculptures exhibit, and to spur some energy I switched lenses on my camera to the wide 24mm and photographed the sculptures. It could have been the freedom from the crowds, more light in the area or just posing a challenge to myself, but I had a lot of fun in sculptures and I think my energy level showed in the photographs.
We finished up in the mid afternoon and made our way back to the Gare du Nord train station. We stopped along the way for souvenirs and to act on some window shopping we did earlier, but we walked back to the station without issue and had plenty of time before the Eurostar took us back to the UK.
When we arrived in London it took a bit of time to get out of the Paris mind set we had, I was ready to use what little French I had if I stepped in someones way or was trying to get through a crowd. Eventually my barrier came down and I slide back into the British way of things. We miss Paris and would love to go back and see the things we missed. Our short list would be to visit the Catacombs, see Sacré-Cœur, take a day trip to Versailles and spend time wandering around. For now Paris will have to wait.
The final post will talk about day trips we made within England and our unexpected night in Reykjavik, Iceland.