The My Year in Status Facebook application has appeared in my News Feed quite a bit over the last few weeks. I am a sucker for "year in review" things, and was surprised by how many status updates some people did throughout 2010. I know I don't post status updates on Facebook frequently so I was curious what my year in Facebook updates looked like.
I wanted to do this covertly so I had my Privacy Settings for Applications, Games and Websites in one tab and my Facebook Profile open in another tab, ready to remove the application and any posts it made after it had generated my numerous updates into a single image.
The result was a little surprising…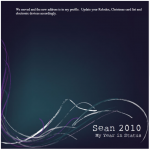 One update is all I made in 2010. I thought I was going to have a big blank page but it looks like I had something I wanted to tell the world about.
Maybe in 2011 I'll have no updates?