For the last few years I have been happily streaming content from my server to the TV's at home. Finding Playstation Media Server was amazing. It handled HD .mkv files, transcoded files on the fly and worked like a champ with numerous customizations and features. When we moved from the condo to the house the distance between the upstairs TV/PS3 was fairly far from the router and it had a weak connection.
I set up a Wireless Bridge on the main floor in an attempt to boost the signal and reduce buffering issues. This worked well enough, but streaming HD content wirelessly was no longer feasible and even SD content needed a few seconds to buffer before streaming began.
Recently Cinavia has become more and more prominent on content I watch. This has forced me to hook the laptop up to the TV and resume where we left off. It was just annoying enough that I finally considered the numerous posts about "just get a WD TV Live box" to be valid. I spent a few minutes researching the device and thought for $100 it could be worth it. I ordered the device from Best Buy and within minutes of its arrival I was amazed at what it could do.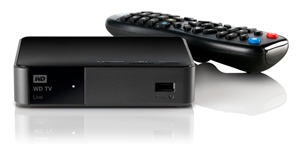 To test the capabilities of the device I started it off on the wireless connection upstairs. It played HD content quickly and looked great. As a special surprise I was able to jump to a specific time (something that would cause an error if I tried to do this on HD content, either wired or wireless). The interace is nice, allows for plenty of customization and it simply works.
With the Playstation we watched a lot of Netflix so I was pleased to see that the WD TV Live box had a Netflix application as well, plus it has a great YouTube interface and connects to other video sources. Now we aren't subjected to painfully trying to load YouTube on the Playstation browser.
One thing that bothered me about the Playstation I have upstairs is that the fans turn on after a few minutes of use. It's not a distraction unless the second level of fans turn on, but it's definitely noticeable. I never did use the upstairs machine for gaming or watching DVD's or BD's, that is reserved for downstairs, so this machine was doing a mediocre job of streaming and I found an amazing replacement for $100 that does everything I expected the Playstation to do and more.
After successfully selling the upstairs Playstation I purchased a second HD TV Live box and I couldn't be happier. As I am going for a smaller and cheaper media device the next logical step would be a Raspberry Pi XBMC machine, but I'm sure the WD TV Live box will keep me satisfied for a few years at least.