Our trip to Iceland requires many blog posts (1, 2, 3, 4). We drove the country, saw a lot of amazing sights, but this post is dedicated to the incidentals. The details that you need to be aware of when you're in a foreign country and being prepared for the differences. I spent hours searching Trip Advisor forums prior to the trip and a lot of the same questions about credit cards and how good the roads were came up. However, things like how a gravel road varies in condition from one part of the country to the other or there being single lane tunnels would have been good information to know and mentally prepare for before you're suddenly there and not sure if it's right or not.
Transactions

Nearly every payment was put on a BMO MasterCard (which had a chip and PIN). Only once did we have to pay for something with cash, and that was only because the POS machine was taking a while to process. We used the credit card for small things like yogurt (Skyr) all the way to larger meals. I didn't find that I was prompted for a PIN very often, it was usually signing a transaction slip.
PIN enabled machines were more common in Reykjavik and Akureyri, as well as self serve gas stations. MasterCard and Visa appeared to be the primary cards accepted. We brought an American Express but I don't think I noticed it being accepted at many places (at least according to the stickers on the outside of businesses), so you are probably okay to leave home without this one.
According to the Lonely Planet and Frommer's travel books tipping isn't required and we never did. The only time we left an extra amount was when it was convenient to unload a large Icelandic krona.
Gas Stations
The process for paying with a credit card at a gas station changed depending on if it was a Shell or an N1. Typically you inserted your card first, entered your PIN and then you had to enter in the dollar amount of fuel you wanted. I made the mistake of entering in "20" (assuming $20CDN) and the transaction was denied because it was such a small amount. I then entered "20000" (now understanding it to be in ISK) and the transaction was declined because the amount was too high. On the third try I entered "10000" and everything went smoothly. Only a few times did I have to go into the station and ask if I could pay inside instead of at the pump.
After a few days of driving I suspected the air pressure in one of the tires was low. Halfway through the trip we explored an N1 and found the best air pump. Not only was it free but it was intelligent. You would enter in your desired PSI on the machine (which had simple diagrams), attach the hose to the tire and the machine did the rest. It would test the pressure of the tire and either add or remove air. When it reached the desired number it would beep several times and you were done. All tire pumps should be this amazing.
Driving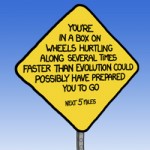 Once outside of Reykjavik the crowd of cars on the Ring Road thinned out and you went thirty minutes or longer before seeing another vehicle. The speed limits in Iceland are not like in Canada where they are seen as a suggestion. If there is a turn in the road and the speed sign indicates 45, you do 45 because it's probably a tight turn along the edge of water and it has a blind rise in it and you could potentially meet oncoming traffic. 90 felt like a fine speed limit, but if someone wanted to pass you there was more than enough opportunity for them to do so.
I passed more cyclists and tractors than cars. There were a few cars that passed me on long stretches but I was happy going 90 to enjoy the scenery.
Single lane bridges are very common in Iceland. It's usually not a problem because there is no oncoming traffic but every bridge you approached you had to make sure there wasn't someone rushing towards it on the other side. Most bridges were fairly short, but longer ones in Skaftafell National Park stretched for long distances over the sandur and had pull out points every hundred meters in case you met another car. I wasn't particularly fond of the one by Jökulsárlón. It was a long bridge where you couldn't see the other side and you were right beside the glacier lagoon so there was plenty of distractions that made this unpleasant to cross a few times.
What was really fun was going in a single lane tunnel! These only existed in the Westfjords, and even though it's a remote area with few vehicles it was still a little nerve wracking. There were pull outs to navigate oncoming traffic but I still breathed a sigh of relief when I got through.
Road Kill
I think sheep would cause more fatalities in Iceland than anything else. Most of them are usually in the ditch or far enough away that they aren't a threat of darting out onto the road but every time you passed them you had to make sure the babies weren't separated from the mother and they weren't going to sprint across the road.
Arctic Terns were incredibly annoying on the road too. Sure, they just migrated from the Antarctic, but for all the wide open space they have to sit on the road? Most flew out of the way before you got close but they changed directions so fast I expected one to accidentally dive bomb into the wind shield.
There were other birds and goats on the road, a few times I had to stop and honk the horn to motivate them to cross.
Security
After travelling to areas where pick pockets and tourist traps are rampant we instinctively kept our guard up in Iceland. We were cautious and didn't leave anything immediately visible in the car when we went to walk to a sight, we always locked our doors and we emptied the car every night. None of this was necessary because everywhere we went we felt safe. We didn't need a 'money belt' or worry about people fingering through our bags in a public place. Iceland was safe and everyone (locals and tourists alike) was friendly. You would say 'hello' to someone and they would respond in German or French. It's a very diverse crowd of tourists but everyone was all smiles.
Language
English is Iceland's second language but we found everyone spoke it, which was a relief because we couldn't even come close to speaking Icelandic. People were friendly and were not put out by repeating something in English. There were a few occasions my "hello" was interpreted for the Icelandic "halló" and the native would say something in Icelandic and I would get a confused look on my face.
Weather
There was always wind. It may not be significant but it was always there. It prevented us from doing a map holding out in the open air several times. We found that we always had a few layers of clothes on but the wind would get you.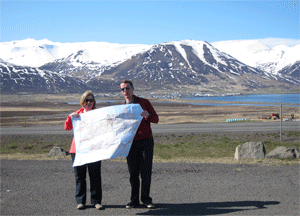 We had several toques and gloves and were worn nearly all the time. The thermometer would read +7 but if it was cloudy and windy it would feel colder. Days where there was no wind and the sun was out was amazing. Bring sun screen if you're going in longer daylight hours because it may not feel like you're going to get burnt but the sun was always high and could cause some damage.
Umbrella's are useless and not needed. If it's raining there is probably wind and the umbrella will be turned inside out and turn into a weapon. There's no place for them in Iceland even though some tourist stores did sell them.
Our daily attire consisted of a long underwear top, a mid layer and then an outer shell. Depending on the weather and what we were going to see we would change the type of outer shell but having the base and mid layer on allowed us to be comfortable in the car but still be warm enough for quick explorations out of the car. On the bottom we usually wore long underwear with a quick dry pant or a fabric that was breathable.
One of the best investments we made was the purchase of Smart Wool socks. We wore these for several days in a row and every day we put them on the sock felt fresh, held its form and never had that tired and used sock feeling. They kept our feet cool and dry on hikes, and after a few days of wear they produced no odour. They were an expensive upfront purchase but completely justified when we were wearing them day after day.
Iceland Unlimited

The comfort I got from having a tour company arrange accommodation and car rental for me was worth the additional cost. Planning out the trip to allow us to see all the attractions without spending a whole day driving was a huge asset. If something were to go wrong on our trip we had a safety net and it was nice knowing we had someone watching our back.
I would recommend Iceland Unlimited to anyone. They were helpful in my original request, modified and customized the itinerary to suit our needs and their passion and enthusiasm about their job was evident when we met them in person.
Our experience with Iceland Unlimited wasn't without a few hiccups, however minor they were, it did impact our schedule.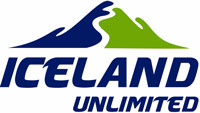 The first issue was when the car rental company didn't pick us up from our guesthouse at the arranged time. The car rental company wasn't aware that a pickup was arranged, so either the rental agency misplaced this booking or Iceland Unlimited didn't make the call. We called our tour guide on the provided phone and within a few minutes everything was sorted out and a short time later a van arrived to pick us up. A minor set back but we were left waiting for nearly an hour when we could have been on the road starting our adventure.
The next issue, and the biggest, was receiving the wrong information for the ferry departure near the end of our trip. Instead of departing at 12PM it departed at 6PM. To make the two hour drive to the 12PM ferry we cut sightseeing short and worked our day around this departure time only to find out we had the wrong information. Nothing could be done to correct this, there was a misunderstanding over what schedule the ferry was running on but this mixup impacted our chance to explore the Westfjords on the one good day of weather we had. We made the most of this by driving back through a fjord that was covered in cloud the day before and explored the beach at low tide, but if we had this time in the morning we would have used that time differently.
Because we were six hours behind schedule it had a domino effect on our sightseeing plans for when we drove off the ferry and the following day. We essentially had to do two days of exploring in one, and return the car back to Reykjavik. Through this mixup we were in constant communication with Iceland Unlimited, discussing alternatives or modifying our next few nights but we decided on sticking to the original plan and then putting two days of sight seeing into one. Iceland Unlimited notified the car rental agency that we would be dropping the car off late and that any additional charges would be covered by them. A nice gesture to correct something that could have been avoided.
These are minor complaints on what was otherwise a smooth operation. The vouchers we were given at the beginning of the trip were accepted without question and there was no issue checking into any of the guesthouses or surprised looks from people saying "We don't have your reservation". Our suggested itinerary was informative but not the end all be all for things to see, and it helped us research nearby sights we may have missed otherwise.
Music


Not directly related to the enjoyment of our trip but it did enhance it. Prior to leaving I created an "Iceland Playlist" full of Iceland artists like Sigur Rós, Bjork, Of Monsters and Men and Ólafur Arnalds. Driving through an eerie landscape with oo's and aa's of Sigur Rós was pretty amazing. If an artist was able to capture the beauty of a country with music Sigur Rós did it. I wonder if people visit Canada, put on Bryan Adams and do flying kicks and fist pumps as they navigate the Trans Canada over the Rocky Mountains.
And that concludes posts about our fifteen days in Iceland. Five months later I still think about Iceland on a nearly daily basis and I believe a part of why it has taken so long to write these posts is that I wasn't ready to admit that this trip happened and it is finally over.