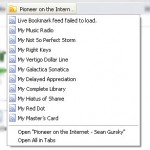 The last 24 hours have been pretty busy around these parts as I put together the pieces. I have taken this 'fresh start' opportunity to separate the blog and gallery onto their own sub domains, something I have thought about doing for a while.
Keith started a mission to retrieve my previously lost blog posts from the depths of Google, and more successfully, Yahoo's web cache so it is likely that seagurs could regain its former glory. What he has done is fairly impressive and I will post his method here so that someone else may use it if they find themselves in the same position I was in.
However the name seagurs is so close to being mine but it is so far away. When 1and1 canceled the web hosting and domain information the domain did not come back on the market for purchase. When looking at the WhoIs information for it I see that I won't have to wait much longer.
domain: seagurs.com
created: 20-Mar-2005
last-changed: 16-Mar-2009
registration-expiration: 20-Mar-2009
Almost four years to the date my seagurs domain would have expired, I find something very odd about the timing of that and everything going belly up.
If Gord doesn't buy the domain out from under me I will go ahead and buy the domain name back because it is easy to type (all but one letter can be typed with the left hand) and everyone that visited the site knew the address.
Soon things should return to their former self around here, however the gallery will take a little longer to rebuild. I have found many gaps in my Project 365 archives so none of the albums will be complete. If this whole adventure has taught me anything it is to always have a backup and that I can access it at any time.