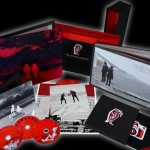 Friday afternoon I received an email about a pre-order for the Under Great White Northern Lights box set. My heart skipped a beat and I immediately began panic mode. The "Under Great White Northern Lights" was a documentary that The White Stripes put together during their 2007 Canada tour.
What made this boxset special was everything else that was included in this:
DVD of the "Under Great White Northern Lights" documentary
DVD of the 10th anniversary show from Nova Scotia
Double LP containing 17 live tracks
Exclusive 7″ vinyl
Silkscreened print from Rob Jones
208 pages of photography
All of this was put together in a beautiful box and presented in classic White Stripes stylings.
I spent a few minutes debating the cost, had some words of encouragement from Taylor and Scott, and then proceeded to submit my pre-order. Unfortunately this package won't arrive until March, but it's good to know that in a few short months I will have this amazing gift arrive, and expect a full unboxing.