In August I read about the Brando Ultimate 3-Point Hand Strap on engadget.com here. I had starred the item in my Google Reader and it sat there for a few months. After lugging the Rebel with the stock strap through England, France and Las Vegas I thought I would take a different approach to how I hold the Canon.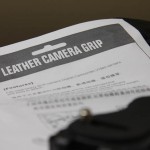 I ordered the 3-Point Hand Strap on November 24, 2009 and it arrived on January 6, 2010. I had no photo walks or tours planned immediately but giving the strap a work out during my daily photos would be a way for me to see if the $16USD was worth it.
So begins my 3-Point Hand Strap review.
Installation was breeze. It's a simple concept but I am able to let go of the camera and it will stay close to my hand, attached and secure.
I didn't realize how often I moved my right hand around the body until it was locked into place. Most of my setting adjustments were done with my hand pulled off the body, but being strapped in I had to slide the hand out of the strap a bit to make changes. This was a little awkward because I have been using the Rebel body a certain way for over a year and I had to re-learn how to make adjustments.
One thing that bothered me the most was that my Lowepro Nova 160AW case had to be reorganized. The Brando strap was just large enough that I couldn't use my standard configuration, so I had to remove the divider between the 500D and my 50mm f/1.8 lens, which has worked reliably for me for over a year.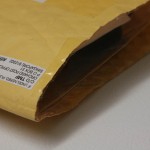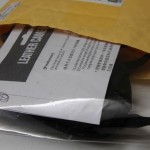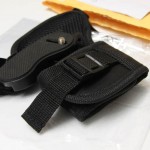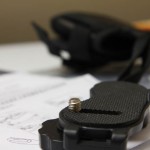 When Gord and I went to Troll Falls in Kananaskis I thought this would be a great opportunity to test the hand strap. It stayed ready in my hand but when the walk got extreme with snow and slippery conditions I was handicapped with being able to use only one hand. If I had to tie my shoe lace or write something down the camera had to be removed. These are not deal breakers for the strap, but if I just had the regular neck strap on none of this would have been a problem.
However, the afternoon walk to Ice On Whyte was ideal for the Brando strap. It was nice to have the camera always present and not worrying about moving the body as I went through the crowd.
The hand strap was able to remain attached to the camera when I would put it on the tripod, but I never felt that the camera was securely on there. I could still adjust the cameras position because the Brando attachment had some give. I was never concerned about the camera falling out, but I would have preferred it if the DSLR felt a little more tighter in there.
I think there is a definite place for this Brando strap, like going on a long photo through a city park or on a leisurely stroll. However for everyday typical camera use it was mostly an inconvenience and may not have aided to a steady hand with the camera. Simple urban exploration is where the strap excels, but should be left at home if you leave the city limits and do some exploration.