It may not be a print magazine, or prominently displayed in an advertisement campaign but something I photographed was displayed on another site and it is a pretty neat feeling.
The photo was used on the Edmonton Real Estate blog as a photo of the week for what is happening in Edmonton. The photo was taken at the Ice On Whyte, and the rest of the photos from that trip can be seen here.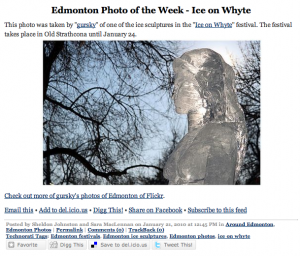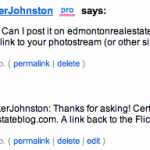 Sadly, I use Flickr less than I should. I use it to publish my Project 365 photos, and with the free account only showing the last 200 photos it is barely a snapshot of my portfolio. I am unable to justify the cost of a Pro account but the social networking aspects of the site cannot be beat because this whole thing transpired through a comment on my photo.