This is a Piccadilly line service to Cockfosters.
The trip to Marseille took place a week after we landed in London but I will write about it last to keep the flow of London going.
It was nearly a week into our trip and we were feeling confident. We gotten used to the time change, commuting between the cities and were acting as if we were locals by stopping at the grocery store on our way home from a day in London. We ventured out into different brands of Jaffa Cakes, starting with McVities and trying the Marks & Spencer brand (which we found superior). All of our confidence was about to questioned the day we visited the Tower of London, and subsequently Tower Bridge.
When you think about the history, the blood and the battles that the Towers have seen it is quite remarkable. The Tower of London was something we would recommend to anyone in the area because it was really engaging. We were walking through areas that were built in 1078, stood in the same cells that housed significant members of London's history and saw their masonry work as they carved graffiti into the walls (

). The Crown Jewels was also breathtaking. I have never seen anything sparkle so vibrantly before, and to see the items used at every Coronation was special too. I may not fully agree with the Monarch relationship to Canada, but I can respect their order and pageantry when it comes to the royalty.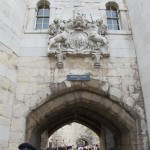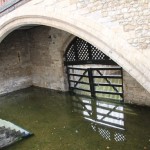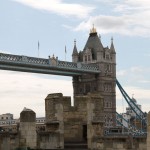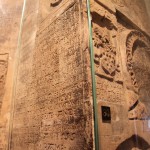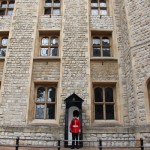 We continued the Tower trip and walked across Tower Bridge, which is when we encountered…
Troubling Tower Bridge
As we were making our way across Tower Bridge a man with a thick foreign accent got Jenna's attention. At first we brushed him off because we assumed he was selling something, but when we realized that he wanted us to take a photo of him on the bridge we stopped. When we got over to him he indicated that he wanted me in the photo with him. This was odd, but I obliged. He put his left arm around me and with his right arm he held a cellphone up to my ear. I could not hear anything coming out of the ear piece but Jenna noticed there was an England and USA flag sticker as well as one that said 'Happy Birthday' on the phone.
Jenna took a photo and I broke free of my smiling captor. Then he indicated that he wanted us to switch spots so now I was taking a photo of Jenna. She was hesitant but obliged. After she was done we hustled our way off the bridge. As we walked off we checked our pockets, made sure nothing was removed or placed on us, washed our hands and continued on with our day. Perhaps it was a harmless situation and the person just wanted photos of "American tourists" on the bridge, or maybe it was something more sinister. Whatever it was, we will never know…until it's too late.
We were put off for the rest of the day, but persevered our trek along the Thames and finished the day at Monument (

). What happened on Tower Bridge was the most bizarre story we had from the trip, and perhaps that is a good thing.
The next day was a Circus for us. Piccadilly Circus has the allure of being a mini-Times Square, complete with large televisions and it being flooded with traffic and vehicles. If that's all it was then what was the appeal of going there? For no reason than to say we did. Unfortunately our trip to Piccadilly Circus did not start out perfect as we were 2.5 miles away from where we needed to be. Perhaps I misread the Tube stop, or it was bad planning, either way we were quite lost and had a long walk ahead of us. 2.5 miles does not sound like much, but when you have been walking for a week straight, are wearing uncomfortable shoes and are navigating a new city it amplifies the distance.
This mistakes was not without its benefits. Because we were in South Kensington we were able to go to Exhibition Road and take a look at a museum. We were pretty tired of museums at this point, however we thought we could handle the Science Museum. If we were properly rested and planned the day better we could have spent the whole day going between the Natural History Museum, Victoria & Alberta Museum and complete the Science Museum; but if we had done everything we wanted to in London there would be no reason to come back and do more. We were tired of crowds and getting a little travel weary so we stopped our museum trip short and continued the trek to Piccadilly Circus.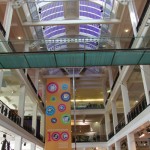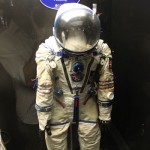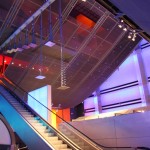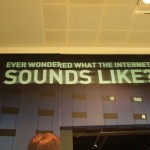 The walk was better than we expected. We walked past the Royal Albert Hall (

), and followed Hyde Park (

) and enjoyed one of the quieter moments outside. Finally we arrived, and obviously it was full of people. There was construction on several street corners and that added to the chaos. I took a few photos from where we stood (

) and sought refuge in the Underground (

). We went from one Circus to another, this time Oxford Circus for famous shopping along Oxford Street.
Of course it was crowded here as well. It was along Oxford Street that I got my shoe bug and would be consumed by shoes. I needed to replace the shoes I bought because I had multiple blisters and aches in my legs so we stopped at John Lewis and I bought a pair of reliable, and comfortable,
Merrel shoes (

). However, the shoes I really wanted (Veja) were unavailable in my size and were the source of my shoe quest for the remainder of the trip.
We saw a bit of Oxford Street and vowed to return during the late morning when the streets would be less busy, when Apple a Day would complete and The Road would happen. Before we could get to there, we visited Brighton. The day after we returned from Marseille we went from one coastal town to another. We cut our sleep short, took an early train into London and were in Brighton by 11 AM. The weather was going from drizzling to windy and it looked like it would affect our day on the coast. After going to the decadent, lavish, over the top and most superfluous (

) 'Royal cottage home' at the Royal Pavilion the clouds had thinned and the sun was out (

).
We went to Brighton on the recommendation of a co-worker. However, after doing a bit more research on the city I knew my purpose for the pilgrimage: to see the iconic Brighton Pier. Years ago when I launched seagurs I used the 3 Column Relaxation theme by Clemens Orth and its default header graphic was the Brighton Pier. I was fascinated by the pier, and even though I took the effort to find out where the pier was I never thought I would be in a position to see it for myself. Four years later I walked across the pier that laid atop of seagurs.
Brighton was a nice town, and had a different vibe than London. It could have been the weather, or it being a weekday, but there was a more relaxed atmosphere to the city (

). Had it been a weekend, or nicer weather, I imagine the pier would have been swarming with people. The lack of locals did allow me to fully appreciate Helter Skelter (

), the slide that influenced one of my favourite Beatles songs. Who knew that the seagurs pier would contain a gem like this? We finished Brighton off with shopping along their famous Laines and made the two hour commute back 'home'.
Seeing Helter Skelter lead nicely into the following day where Jenna and I did it on The Road.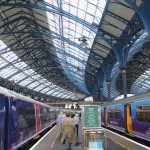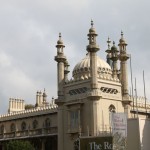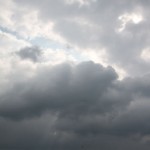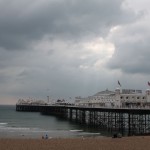 The Road
Platform 9 3/4's was one thing, but going to Abbey Road was beyond anything I could have imagined. It moved me to be in the presence of such a historic place. I imagine this is a bit of what I would feel if I visited the U2 Joshua Tree (assuming it was still around), but not to let that detract from Abbey Road; it was amazing. The closer we got to the studio I could see the graffiti on the wall and was overwhelmed with goose bumps. The wall outside the studio is painted over frequently but you would never tell because it was full of names, messages and well wishes. I did my part to contribute to the graffiti. In retrospect I wish I would have written something more profound, but in a few weeks it won't be visible anyway.
I smiled the whole time I crossed the sidewalk. I never posed for a photo on there, simply saying I was there was enough for me. Besides, to do the photo justice you need four on the road and one taking the photo. This was a huge personal highlight and am glad we made the effort to get there.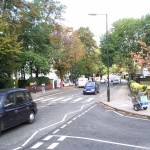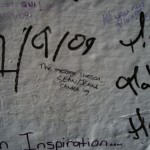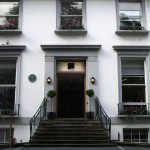 Apple a Day
It started out innocently enough, but while in Cambridge we came across an official Apple store. I was curious and had to go in. It was identical to the West Edmonton Mall location but I was able to say I did. While we were in Brighton I saw another Apple store. This was becoming a trend so I had to go in, look around and take a photo. The final, and grandest Apple store I had ever seen, happened on our final full day in England as we returned to Oxford Circus to see the beautiful two story store on Regent Street. If I ever go to NYC I will see the Fifth Avenue store, but until then, the Regent Street store will stand as the best against all our Apple stores I saw. It was two stories, had a glass stair case and everything about it was luxurious.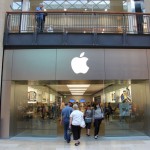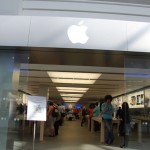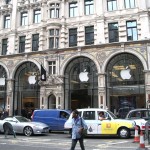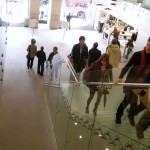 Leaving Is Hard To Do
The day of our departure was well planned, but we had no idea we would be running for four hours. We left for the train station and little late and had to run to the platform to catch the 6:09 train into Liverpool Street Station. It arrived without incident, and we moved onto phase two of the plan: getting from Liverpool Street Station to London Bridge Station. It is 1.5 miles between the stations and is a walk that can be done in about twenty minutes. Alternatively we could have taken the Tube and got there in a fraction of the time. Unfortunately the great equalizer was our luggage and neither of us wanted to subject ourselves to the torture that both options provided. As good as the Tube is, it is not very friendly to those that are disabled so even if we made it to the platform we would have to jam our luggage, and ourselves in the carriage.
We completed our trip in London by taking a new mode of transport: a cab. It may have been the more expensive option it was one that gave us peace of mind. We arrived at London Bridge Station in one piece and with time to spare before the next train. Our arrival to Gatwick Airport was simple and without incident, however we were not prepared for what awaited us in Gatwick Airport.
The line to check in at Thomas Cook/Canadian Affair was long. Like most things in England, they were efficient with queues and were able to check in in under thirty minutes. We are always afraid of going over on baggage weight, and we had good reason to be concerned this time because the few items we were bringing back had significant weight to them. Jenna was under by several kilograms, next up was my bag and it fluctuated on the scale before settling at exactly 20.0KG. The perfect pack, no more, no less, the bag was a thing of travelling beauty. The lady at Thomas Cook did not share our excitement, as if she sees perfectly packed luggage every day.
We could not admire the scene for long because we gave ourselves 2.5 hours at the airport and that allowance was being eaten into in a big way. There were public announcements about delays in security and we saw the line wrap around the Departure area so we gave up one line for another. An hour later we were through security and had an hour until our plane was going to leave, except we did not know which gate we were leaving from. Before we fly we like to sit, catch our breath, and explore the terminal. Instead we stood in front of the departures board (

) waiting for our Calgary flight to be assigned a gate number. Forty minutes before departure our gate number finally appears and it is at the other end of the terminal (with an estimated 20 minute walk to get there), so we pick up our carry on and walk briskly to the furthest gate.
We get to the gate with time to spare but have spent the last four hours running against the clock and at the end of a long marathon we collapse in our seats. We were both asleep on the plane before it reached cruising altitude and were settling in for our trip back to Canada…where I would have my luggage searched for the second time in nine hours, and this time it was all because of hot dogs in a can.
The trip recap concludes with the weekend we spent in Marseille.