The gloves are still drying from the final game of the Ice Dragons playoff game last night and the wound of this loss is going to take months to heal. For the second year in the row the Ice Dragons were ousted from the EMHL summer coed post season by the AMS Shredders in a shootout and the hatred we have for that team grows a little bit stronger.
How we got that far is a story onto itself and our season came to an end one week after one of the best memories I'll have in my hockey career. On paper the Ice Dragons weren't worth a second glance. We posted a 7-8-0-1 record for 15 points, one above the team at the bottom of the B division. After a stretch of losses the team was moved to C division where the victories came easier and the games had less meaning. After a few weeks of accumulating wins we were moved back to B division and were given a harsh wake up call.
It seemed that every team got exceptionally better in between seasons and we stayed the same. There was no middle ground for us, it was either an easy victory in C division or a lopsided affair in B division. Having nearly identical rosters to last year I can only assume everyone else stepped up their game, or played a little bit harder against us.
Our regular season ended with two victories in a row and we were slotted to face the Yellow Pencils in a first round matchup. The Pencils had a dominating record of 11-4-0-1 and with the exception of a few forfeits they were the best team in the division. We lost the first game, fielded a larger roster for the second game and staved off elimination.
A few days later we met for the third and deciding game. We had eight skaters and the odds stacked against us. It was a strong game on our end as we didn't show signs of being short and had the Yellow Pencils number. With the seconds ticking down the Yellow Pencils tied the game and we were heading to a shootout.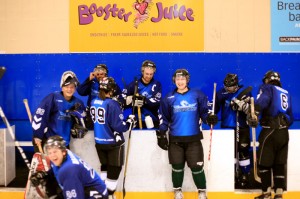 After the first three skaters went we were tied at one apiece and it was my chance to go one on one with the goalie. I may not remember all of the goals I score but from the blue line to celebration I remember my position, where the puck was and what I was thinking. I came in on the left, cut across in front and hit top shelf. I thought about back hand, deke or something else but as I went left to right I knew what I was going to do and after that goal I had a grin on my face for hours.
Some controversy followed from the opposition as to who would shoot next, but it didn't matter, they missed and we celebrated hard.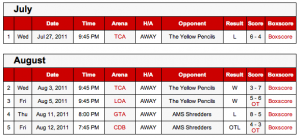 Next up were our arch rivals the AMS Shredders. We lost all of our regular season games against them this year but knew we they could be beaten. We had back to back games scheduled and the score card will show them winning both but not without a fight.
For the second Friday in a row the Ice Dragons were short benched with eight skaters and were in an elimination game. Sadly the outcome was different this time. It was a solid effort from everyone on the Dragons as we overcame an early deficit and killed off several penalties. The Shredders scored with 16 minutes left and we were heading to another shootout.
Instead of being a part of the celebration we watched these jerks celebrate a shootout victory over us for the second year in a row. With their top competition (Yellow Pencils) removed from the playoffs the B division is theirs for the taking in a second year in a row and we'll be looking forward to the playoffs next year for revenge.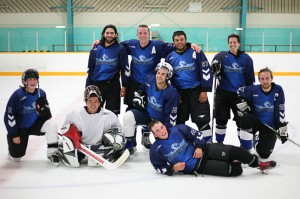 Pushing aside the bitterness of this loss it was still another fun year being a part of the Ice Dragons. My assist amount decreased this season from last, but I made up for it by scoring the most goals I had in any Ice Dragons uniform.
Our team had a lot of returning players from the 2010 season and it made for a tight knit group. The new players fit in well and I would be pleased to have everyone come back for a fourth Ice Dragons season. The team Gord started in 2009 has come a long way and hopefully one year we'll get to know what the Finals taste like and have a chance at claiming a division championship.
Until then I will be thinking about this all summer long (again): stupid short bench, stupid Flyers Shredders.
Photos from this season can be found in my gallery here. Photos from the Shredders playoff games will be added this weekend.